Accessing the bed of the truck while the Fifth Wheel is hitched can be a challenge as you cannot use the tailgate to get into the truck and leaning over the truck rails often means that you cannot reach the Fifth Wheel hitch pin and lever.
Here is a portable step that simply attaches over the tire to allow easy access to the bed of the truck and also to the Fifth Wheel hitch.
The step can be raised or lowered as needed and will fit most truck tires.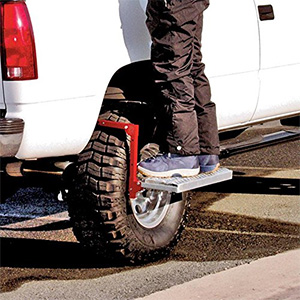 This useful step can also be used on the front wheels of the truck to gain access to the engine compartment and to aid in cleaning the windshield of the truck.
The step is sawtooth-edged with perforated holes which will allow greater traction, especially if it is wet outside.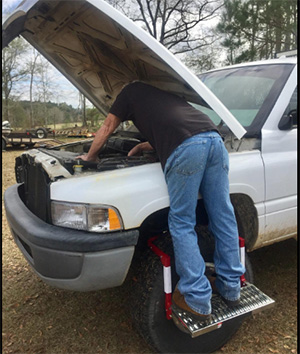 When the step is not in use it folds up compactly and can be stored in your truck bed or truck box.
.

Below is a short video of the step in use.