TPMS and Saving Fuel
The TPMS helps save fuel by allowing the driver to see all of the tire pressures at a glance. If any tire is showing either to high or to low a pressure it can be adjusted prior to travel.
This reduces the arduous task of checking each tire prior to departure, especially the inner tires on dually trucks.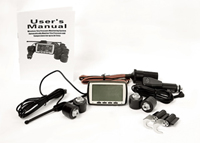 Questions to ask when purchasing a TPMS system.
Do the transmitters have user replacable batteries and what is the life of the transmitter before needing a new battery
. If you are not using your fifth wheel you can remove the transmitters from the tires. With this particular system the transmitters will turn themselves off once they are no longer connected to the tire, which saves the battery life. The sensors operate using a readily available CR1632 battery.
How far can the transmitters transmit.
If you have a long fifth wheel their is the chance that you will need to purchase a repeater so that the monitor receives a strong signal from the furthermost rear tires on the fifth wheel. This system has excellent transmission distance so rarely is a repeater needed on a fifth wheel.
Are the transmitters theft proof.
This system provides transmitters that need a special tool to remove. They cannot simply be unscrewed from the tire.
How many transmitters can the monitor handle.
If you have 6 tires on the fifth wheel and 6 tires on the tow vehicle then the monitor needs to be handle 12 transmitters. Newer trucks come with a built in TPMS so you would only need sensors for the fifth wheel if you have one of these TPMS fitted trucks.
The Truck Systems Technologies TPMS system is available directly from Fifth Wheel Magazine along with a 2 year warranty. Invest in your safety and get one of these systems. Install it on your fifth wheel and tow vehicle and be safe while travelling.
To Order a TPMS System click below Purchase area is at bottom of the next page) Plus an Installation Video