Fifth Wheel RV Tire Pressure Monitoring System

This Fifth Wheel RV Tire Pressure Monitoring System comes with sensors that feature user replacable batteries. The system reports PSI and tire temperature in real time, while continuing to offer the user the continued ability to custom program up to 6 differing PSI settings.

The sensors in this system are super lightweight weighing only 12.5 grams each. Because of the lighweight sensors, no re-balancing of the tires is necessary.

The 507 RV tire pressure monitoring system does not require programming of each sensor. Simply hold the sensor up to the monitor and the monitor will recognize and automatically program the sensor code.
(Each sensor has its own unique ID number so that the monitor knows which sensor is sending data).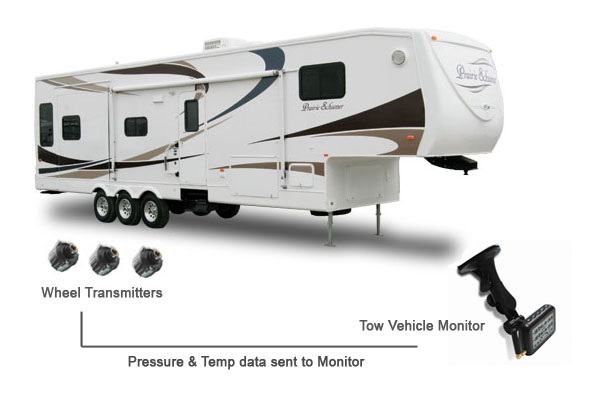 The TST 507 RV tire pressure monitoring system is accurate within 1.5 +/- PSI and our systems are accurate within +/- 1 degree Fahrenheit of the actual air temperature within your tires.

The system will rotate through each tire, showing heat and pressure. If a problem is detected the system will beep and the affected tire will flash on the monitor along with that tires current tire pressure and temperature.

We also stand behind our new system with a two year warranty. Our 507 system also arrives with a nice dashboard mounting bracket and a suction cup bracket for easy windshield mounting. We have re-designed the monitor for our 507 system to offer a more ergonomically friendly design, while continuing to offer the same data that has driven TST to the top of the TPMS industry, backed and supported by the same personal service standards that have made TST the only name you ever need to know in the world of tire safety and pressure monitoring.

This system will monitor up to 22 different tires with axle specific PSI settings. Our new system was designed by RVers for Rvers with safety and ease of operation at the forefront of our design intent.

The TST 507 RV Tire Pressure Monitoring kit comes with everything you see in the attached photo. It arrives ready to monitor two tires (You purchase additional sensors to monitor additional tires.).

The system arrives with two installation wrenches, a short antenna, a dashboard mounting bracket, a suction cup bracket, a cigarette charger, a hardwire kit, a detailed users manual, and the on board monitor display.

Click here for Fifth Wheel Magazine's review of the T507 System


Below are the Installation Instructions for the T507 TPMS System